Fresh, tasty, seasonal and regional cuisine
Restaurant Waldesblick
Our restaurant is known for its fresh, tasty, seasonal and regional cuisine with fruits and vegetables from the garden and game from local forests.
Our tagliatelle are, just like the accompanying herbal pesto, homemade and worth a visit.
Enjoy our home-made ice creams. "After Eight", "Pina Colada", Campari-Orange or maybe basil? Our home made ice cream will convince you too. Of course, there are also classic flavors.
Take a seat in one of our guest rooms or on our cozy terrace enjoy the family-like atmosphere.
Whether you have taken a short walk or a long hike through the surrounding woods, visited suspension bridge 'Geierlay' or if you have relaxed in the garden, enjoying the sunshine – with us you will find peace!
Our terrace is inviting you. We spoil you, whether with coffee, drinks and homemade ice cream, or a la carte with continuous kitchen.
In our restaurant we offer 60 seats, in the adjacent room another 25 seats, combined with a children's corner. Parties up to 100 people are possible.
After a strenuous day enjoy a good glass of wine from the region, a freshly tapped glass of beer or a homemade schnapps, obstler or herbal liqueur.
While the grown-ups are enjoying their meal, our youngest guests can entertain themselves in our playroom, playground or playbarn.
One look at our Menu will bring up your apetite!
Summer
Monday: 2 - 8 p.m.
Tuesday: 5.30 - 7.30 p.m.
Wednesday: Rest day, no half board
Thursday: 2 - 8 p.m.
Friday: 2 - 8 p.m.
Saturday: 2 - 8 p.m.
Sunday: 2 - 7 p.m.
Winter
Monday: 5 - 10 p.m.
Tuesday: Rest day
Wednesday: Rest day
Thursday: 5 - 10 p.m.
Friday: 5 - 10 p.m.
Saturday: 5 - 10 p.m.
Sunday: 12 - 8.30 p.m.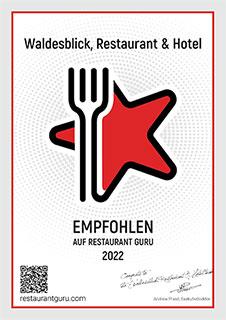 Reservations for groups outside the opening hours are possible.
We are looking forward to host your celebrations in our house or to provide catering service at your home. Please ask !
Vouchers and discount cards can only be taken into account if you tell us before you order.
For more information, see Frequently Asked Questions.