Abendrot – sit out on the terrace and enjoy the sunset
Waldesblick Apartment Abendrot
Abendrot, our largest apartment, is 100 square meters, wheelchair accessible, offers space for 6 – 7 people and is located on the ground floor of our guest house.
The apartment has a large living room with armchair, 2 and 3-seater, 32″ flat screen TV, dining area and kitchenette with dishwasher, a bedroom with a double bed of 180 x 200 cm, two bedrooms with double beds of 200 x 200 cm, 3 LCD TVs, three bathrooms with shower/toilet, terrace and sitting area by the fountain.
In each bedroom there is the possibility of an extra bed or cot.
Aditional features can be found on page Overview.
For more information, see Frequently Asked Questions.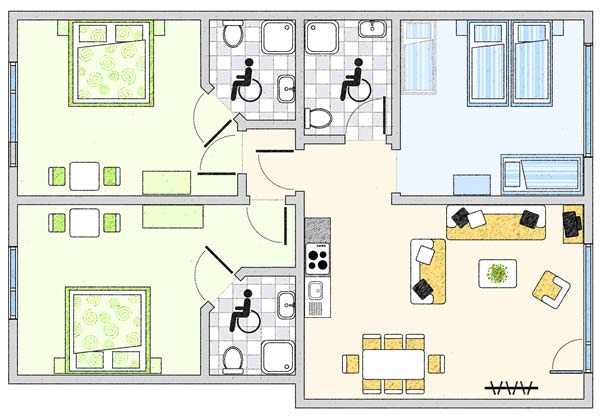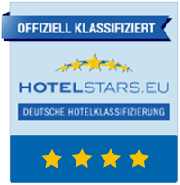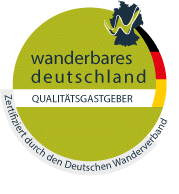 Rates apartment Abendrot
Valid from 1-1-2022, subject to change.
Prices per night, including full buffet breakfast, minibar and snacks, tea and coffee maker, Wifi and use of the sauna (subject to availability).
6 Persons
From € 320 Monday - Thursday
From € 350 Friday - Sunday
From € 380 Holidays
Each additional person per night: From age 12 € 43, under age12 € 35.
In general: Apartments 2 nights minimum stay.
Discounts:
2% from 5 nights
4% from 7 nights
6% from 10 nights
Extra: Half board
Starting from 3 nights we offer half board. In the evening you can enjoy a 3-course dinner consisting of soup, 2 main courses to choose from and desert for € 32 per person per day.
Children age 6-11 receive 30% discount, age 2 - 5 50%. Children under 2 years are free.
On the day of arrival, our apartments are available from 3 p.m., on the day of departure the apartment key is to be turned in at 10 a.m. Earlier arrival and later departure is only possible by prior arrangement.
For more information, see Frequently Asked Questions.
Info: Dogs
If you would like to bring a housetrained dog, please mention this when making your reservation. Dogs are only allowed for direct bookings, after consultation and for a fee. For reasons of hygiene, this is only permitted in rooms without carpets.
You may bring your dog with you provided that your dog is not left alone in the hotel room / apartment.
We charge € 15 (without food) per night.
For breakfast with your dog, please use the entrance of our fireplace room. Your dog is not allowed direct access to the main restaurant during breakfast time due to the buffet in the entrance area. During the restaurant opening hours, your dog is allowed to accompany you to the restaurant.
For each room / apartment only one dog is allowed!