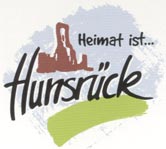 Waldesblick Hotel & Restaurant
The Hunsrück …

… the southernmost part of the Rhenish slate Mountains, situated on the westbank of the Rhine, extending between the Rhine, Mosel, Nahe and Saar, has the lowest population density of Germany.
In the 18th and 19th Century, out of economic necessity, several hundreds of thousand people moved away.
The average 400 – 500 m high hills of the Hunsrück, partially crossed by canyon-like valleys, climaxing in the 816 m high Erbeskopf, the highest mountain of the left bank of the Rhine Slate Mountains.
While the gently sloping landscape is used for agricultural purposes and is rich in small towns, the ridge of the Hunsrück forms of one of Germany's largest forest areas.
Geologically interesting are the precious stones and slate deposits in the foothills of the Idarwald.