A holiday-paradise for children.
Natural family vacation
Far away from busy traffic our roomy hotel-garden provides the perfect surrounding for new outdoor-adventures.
Our little village, with only 165 inhabitants, is so idyllically situated that it will entice you immediately. Enjoy some peace and quiet, while the children play on the playground, the play-barn, the play-room or just on the grass.
Our children's fleet with small and large GoKarts, Kettcars, Bobbycars and pedal tractors provides variety and fun with the whole family.
Without crossing a road, you can wander through the meadows and field, or enter the forrest at just 150 meters from the hotel.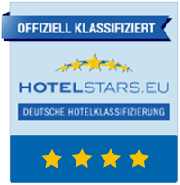 Our toddler service
For our youngest guests we offer you wooden cots with slatted base and mattress. We charge a flat rate of €25 per cot, regardless of the length of your stay.
This offer includes:
Step stool
Children's bath cape
Baby change pad
Diaper pails
Baby bath tub
Baby bath bucket
Babyphone
Restaurant
Selbstverständlich gehen wir auch im Restaurant auf unsere jungen Gäste ein:
Kinderkarte
Auf Wunsch schnellere Zubereitung des Essens für die Kinder
Vorlagen zum Ausmalen mit Stiften
Kinderhochstuhl und / oder Kissen zum Unterlegen
Babylätzchen für die Kleinsten (als unser Geschenk)
Kinderbesteck und Kinderporzellan
Kindergetränke in kleinen Gläsern
But there is more to do. Numerous castles are waiting for their little knights and dames. Or take a boattrip down the Moselle or Rhine; the Romans and Celts left their footprints and each hiking tour it gets clearer where the name 'Rhenisch Massif' comes from.
A few suggestions:
Sonntags: "Lebendige" Ehrenburg, Brodenbach
By decision of the Regional Court of Hamburg of 12 May 1998 , we are obliged to point out explicitly that we are not responsible for the content of linked pages.